Downgrading Asana: What to expect
Note: If you buy something linked to in one of our posts, we may get a small share of the sale.
Asana offers one of the most generous, helpful free-for-life products with the free version of Asana. It allows up to 15 people and offers 90% of the functionality of Asana Premium.
We've covered the differences between the free version of Asana and Asana Premium previously, and there's no doubt Asana Premium is worth every penny.
But sometimes budgets are tight and you might be forced to downgrade. Are you going to lose all your work? Is data going to change? And are there benefits to upgrading for just 1 month, even if you don't intend to stay on Asana Premium? (Spoiler: YES!)
Here's a list of what I experienced when doing this for this article:
Good stuff
Keep organization name
When you're on the free version of Asana, you can't change your organization's name. It will probably be your domain name (like projectmagementpros.com).
In Asana Premium, you can change this name. Whatever you change it to will stay even after downgrading to the free version. So while you can probably live with a different organization name, it's often an annoying thing you could fix by upgrading for just 1 month.
Keep all projects on your Dashboard
That's right, you can keep all projects on your dashboard even after downgrading! The free version of Asana is limited to just 3 projects on your dashboard (making the feature pretty much worthless), but if you have a lot of on-going projects you could set them up once and keep them even after downgrading. Of course, you won't be able to add new projects.
Keep all favorited custom search reports
In 2016, new Asana free accounts do not have access to custom search reports. However, if you upgrade and favorite/star custom search reports, they stay saved in your sidebar.
So by upgrading for a month and following a guide like my 6 Asana search reports every manager needs, you could get set up with some powerful reports without having to pay for the feature every month. You won't be able to create new search reports after downgrading, however.
Can still use created Boards
Asana released the Boards feature recently for a view similar to Trello. Any projects you set up as Boards will stay as Boards, and you can continue to work and manipulate them as you wish. I suppose you could create a bunch of empty Board projects before downgrading and then rename them when you wanted a new one.
Keep all dependencies
Dependencies (i.e. "Mark as waiting on…") is limited to Asana Premium customers. However, any dependencies you create while a paying customer stay even after downgrading. So if you are able to plan way ahead, you may be able to set up all your project's dependencies before downgrading and benefit from that functionality.
Bad stuff
Lose access to all custom fields immediately
This is the worst part of downgrading. Custom fields offer so many possibilities of sorting, visualization, and automation, and you lose access to them as soon as you downgrade. They no longer show in any tasks or in any project.
Your data is not lost, however. If you upgrade back to Asana Premium, everything will be back right where it belongs.
Lose access to Asana's templates
After downgrading, you no longer can select from most of Asana's pre-made templates when creating a new project. They really wouldn't have much value anyways, however, because you can't see the custom fields.
However, you can create projects using the templates while an Asana Premium customer and keep those projects you created even after downgrading. You could even continue to duplicate those projects. But like I said, they really don't have value without custom fields.
You can learn how to create even better Project Templates in the Asana Training Masterclass!
Private teams become public
If you had a team that was private, it immediately becomes public meaning people can see it and request to join. It does not mean that everyone has access to the projects in that team.
For projects that were private to a few people (a premium feature), those stay as is. Again, by being a customer for just 1 month, you could set up the privacy settings just the way you wanted and those settings would be maintained even after downgrading.
Lose access to the administrative controls
You will lose the ability to designate an administrator to manage users and teams, export all data in Asana, and configure SSO and SAML for your organization.
Get stuck with an ugly orange bar for a week
After downgrading, there was a massive (in my opinion) orange bar at the top of my Asana workspace trying to get me to upgrade again. This wasn't surprising, but there is no way to remove it! No X button, nothing. I thought it might be a browser issue, so I opened Asana in another browser. Still nothing!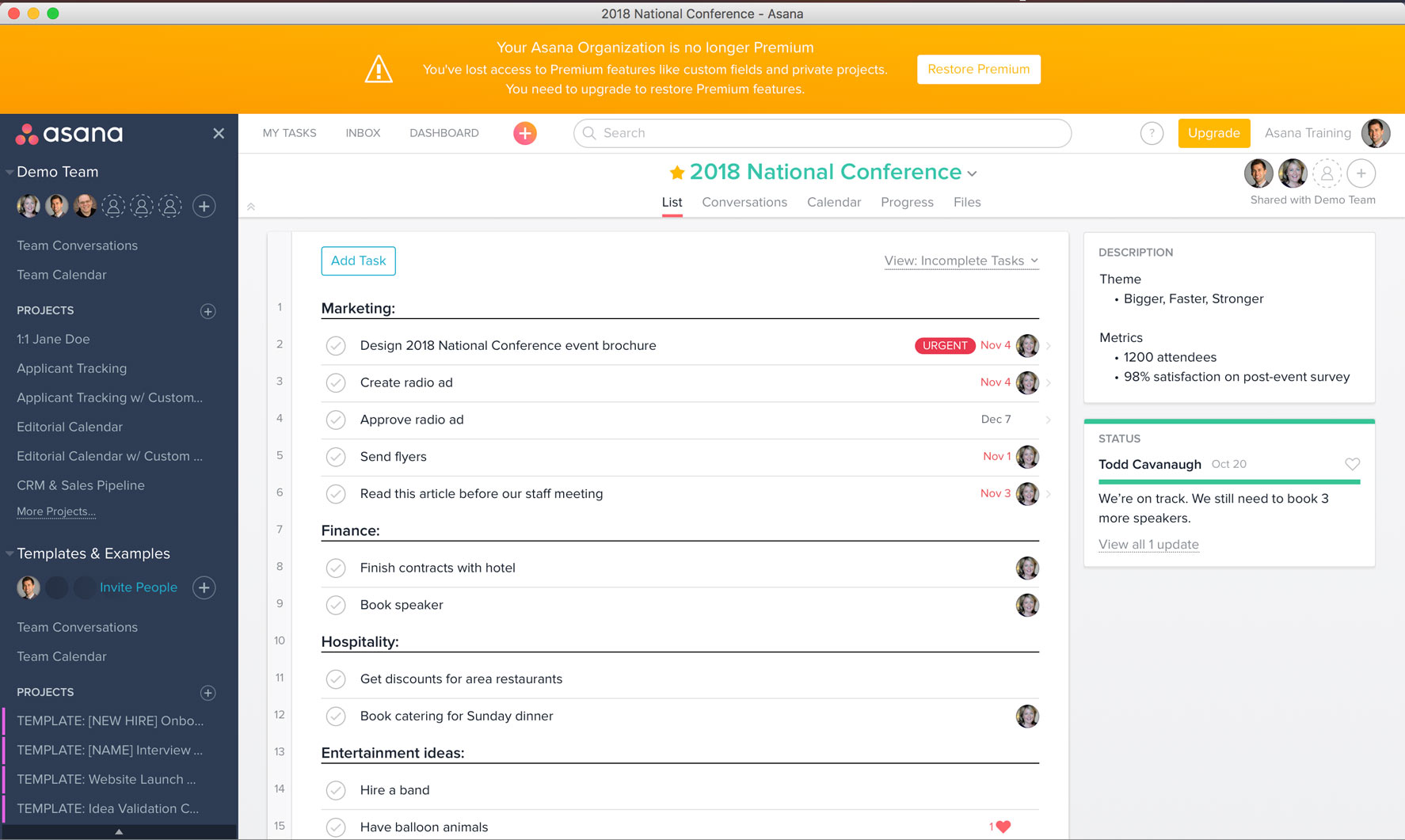 I contacted Asana support, and apparently the bar is by design. So the bad news is there is no way to remove it, but the good news is a close button DOES APPEAR after a week. So very annoying, but at least it's not permanent.
Summary
So there you have it! Overall, the downgrading process is pretty painless, and I learned there's a number of benefits to upgrading for just a month even if you can't afford Asana every month:
Change your organization's name for the sanity of every employee with OCD
Set up your dashboards with all of the projects you want to follow
Create saved search reports (relevant to new accounts created after search reports became a premium feature)
Set up Boards projects if you have projects where that visualization is helpful
Project managers can plan ahead to set up dependencies
Feel better about life for at least giving Asana some money for their awesome product!