Asana releases new Timeline view (i.e. Gantt charts)
Note: If you buy something linked to in one of our posts, we may get a small share of the sale.
One commonly requested feature by project managers for Asana is a Gantt chart view for projects. As we predicted, Asana just released a new view for this called Timeline. Timeline is a Premium-only feature as it requires Start Dates (which is also a Premium feature).
The purpose of the Timeline is to visualize how work is progressing and make adjustments as needed. It also makes dependencies much more apparent so you can focus on the critical path of a project. Gantt charts were previously only possible via a 3rd-party tool called Instagantt.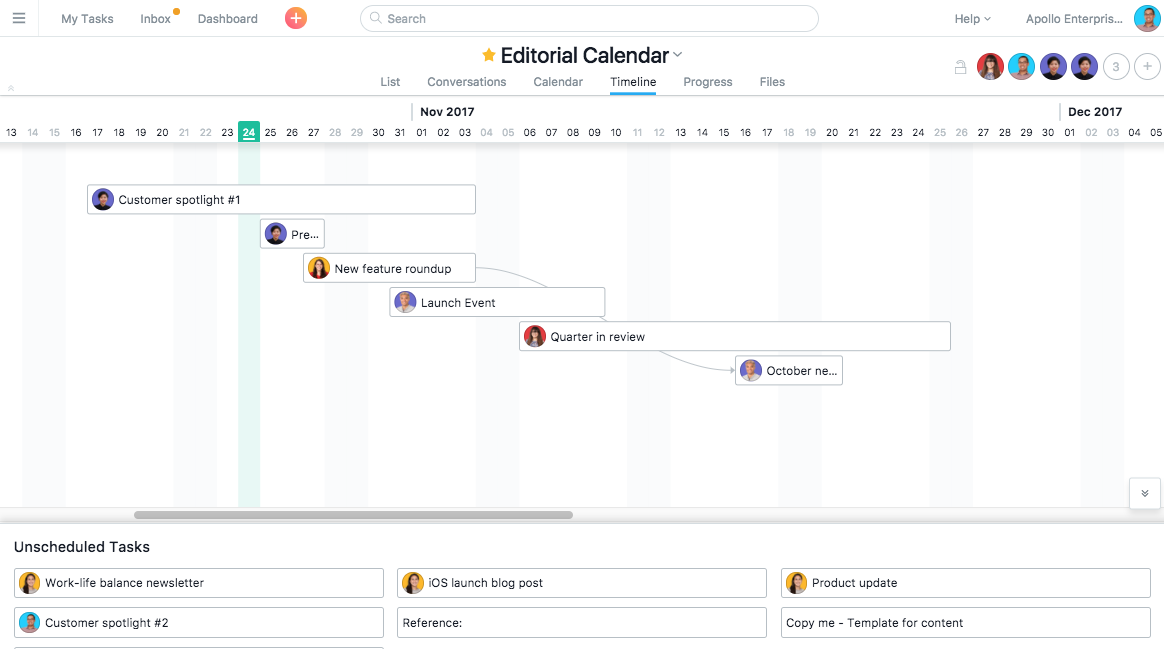 The Timeline view is automatically accessible on every project in the project toolbar (where "Conversations" or "Calendar" is located). Tasks with due dates appear in the Timeline, and by dragging the beginning or ending of a task, you can set both a "Start Date" and a "Due Date." Like in the Calendar view, you can click on a date to create a new task.
Dependencies show as gray lines, as seen in the image above. If there is a conflict with the due dates of dependencies, the gray line will turn red indicating a problem in the project plan.
One of the things I really like is the area for tasks with no due dates (which obviously can't show on a timeline). The tasks with no due dates will appear at the bottom of the Timeline in the Unscheduled Tasks section. You can drag these up into the timeline to add them into your project plan.
Timeline also allows you to drag a box to select multiple tasks at once, and then drag the selected tasks to a new part of the timeline. This allows you to shift all the tasks at once. This would be helpful if you need to delay a project, for example, and need to postpone many of the tasks' due dates all at once. Bonus points for a future update would be being able to respect weekends as you shift a timeline.
By sharing the URL of the Timeline, you can share it with anyone in your Asana workspace/organization who has access to that project.
Areas for improvement in Asana's Timeline
The Timeline view is still new, so hopefully Asana can address some of the following current shortcomings.
Can't set dependencies from Timeline view (ADDED MAY 2018!)
There isn't a way to set dependencies between tasks in the Timeline view. Seeing and establishing dependencies visually in a Gantt chart is one of the most critical uses of Gantt charts. It shouldn't be so complicated to add dependencies.
This is a big disappointment. It should be easy to establish dependencies from tasks by clicking on one task and then clicking on another. Instagantt had already figured out how to do this perfectly. Hopefully Asana notices. It's far too time consuming to click on each task, click "Mark as Dependent on…", search for a task, and then select it.
No dividing of tasks into sections
Again, Instagantt provided a nice way to show or collapse tasks in the Gantt chart based on the Asana section to which they belonged. For example, if a marketing department is setting up a project to create a video, it might make sense to divide the work into "Pre-Production," "Production," and "Post-Production" sections. In the Timeline, there is no way to collapse the sections to focus only on certain parts of the project or provide an overview of the project (i.e. "Pre-Production will last from June 1 until June 17")
No subtasks
If your workflows rely on subtasks a lot, you might run into issues as subtasks do not show in the Timeline (like the Calendar view). There are many reasons why subtasks are tricky and we suggest not using them for the bulk of your work, as we outlined in one of the most popular posts in the Asana community. But not showing Subtasks in the Timeline is another strike against them.
No printing format
I think it's common to want to print a timeline, bring it to a meeting, and then scribble on it before making modifications to the plan. There isn't a way to export the Timeline into a printed or PDF format. ☹️
No "project baseline" capability
A really neat part of Instagantt is the ability to create project baselines and then overlay it on the current timeline to compare the original plan to what is actually happening. This isn't possible in Asana's Timeline.
No Timeline view for My Tasks or Search Reports
It would be great to see the Timeline view from a user's My Tasks as well. This would help with some aspects of resource planning. Currently, you can only view Timeline in a project.
Likewise, you cannot create a Timeline for multiple projects—or a certain person within a project—as there is no Timeline view for Search Reports.
Overall, this is an exciting development and it shows Asana's continued commitment to product excellence. Are you excited for Timeline? Is there anything else you'd like to see with this tool?
Timeline
 |
Asana Guide